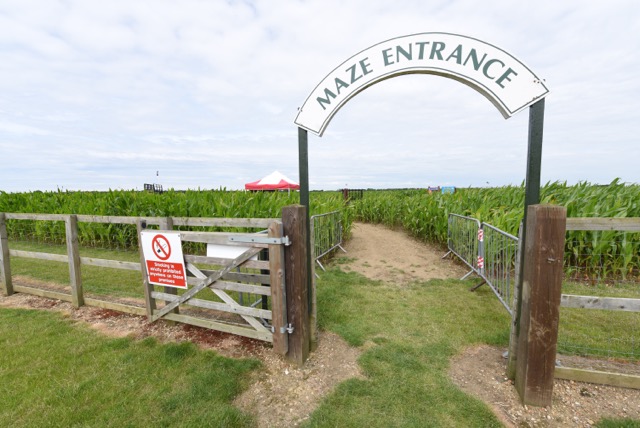 Through social media yesterday, I learned that today, Friday 15th July, 2016 was to be the start of a new season for the Milton Maize Maze team at Rectory Farm, Milton, Cambridge. I decided to take a look at the farm's primary attraction.
Rectory Farm, is conveniently located on the A10 just outside Milton. There is parking in abundance and the first thing to strike me is its order and tidiness; the car park alone, though grass, has amply-sized parking spaces marked out with lines of scorched grass.
My host is Marilyn Chapman, who, together with husband Rob, – Farmer Rob, as visitors know him – moved to Rectory Farm in 1989. The farm, now consisting of approximately 280 acres, was by then purely arable and it was not long before the need to diversify was identified.
As we talk in the refreshment area just outside the farm's Old Dairy Café, Marilyn recounts that, as is often the case, a farm shop was the first innovation introduced under the couples' tenure.
At that moment, her attention leaves me, and although she continues to talk, her eyes follow a member of staff pushing a barrow containing one of the coin-operated toy tractors, which are one of the attractions at the farm, across the courtyard. "That should not be heading that way at this time of day," she says.
I am left in no doubt that this warm, engaging, friendly woman knows exactly what should and should not be happening on Rectory Farm.
It was in 2003 that the first maize maze at the farm opened to the public. It had been Marilyn's idea. "I had taken a weekend off and gone to Norfolk with the children and we went round a maize maze then."
Although it was only a basic maze, Rob and Marilyn regarded it as a good idea. Since then, they have committed themselves to the production of a maize maze annually.
The preparation work starts in earnest in February. Each year, Rob and Marilyn come up with a theme for the maze and, with the help of a specialist maze designer, have their plans finalised by April.
Marilyn confesses that as the years have gone by their designs have become more complex. At the Maize Maze Association, an organization set up in 2009 to help maize maze operators grow better mazes and improve the maize maze experience for visitors, of which Rob was inaugural Chairman, they are well known for their designs and for their precision.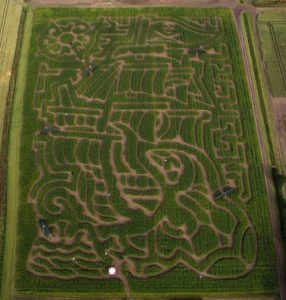 The maize is planted by the end of April once the risk of frost has receded and the paths through it cut when the shoots are only a few inches high. The paths are then rolled, and by mid-July when the maize is up to five feet tall, the maze is ready for use. The crop will grow up to another two-feet in the months before the season closes in September.
We leave our seats and head out into the sunshine towards the 7-acre field bounded by tidy, well preserved wooden fencing. As we do so, Marilyn's phone rings "Elles," says my escort, "I'm in the Field Of Fun, is there a problem?"
Moments later, Elles, a young member of staff, appears. A minor issue regarding a credit card payment is resolved, she departs and we head toward the maze entrance. The efficiency I observed is impressive.
At the entrance to the maze I meet Henry. This likeable eighteen year old, wearing a maze-marshal's hi-visibility vest and equipped with walkie-talkie and ear-piece, greets visitors and introduces them to the map of the maze, the games that can be played within it, and points young guests in the direction of the treasure buried there. Like many of the temporary staff employed at Rectory Farm over the summer, Henry will head back to college in the autumn.
Of course, the splendour of the maze itself cannot be seen from ground level. Located around the farm are a number of photographs of previous years' maze taken from the air.
Once inside the maze, the risk of getting lost cannot be ruled out although help is always at hand. The maize is sown especially tightly so, as Marilyn puts it, "you cannot cheat."
Inevitably, I ask the question. "Is there a secret way to navigate the maze?" Marilyn smiles. "We do get rather pompous maze afficionados who say 'I know how to do mazes – you stick to the left and keep going.'" The reality is, of course, not like that. This maze is designed to a pattern that depicts a theme for the year rather than honours the traditions of the Hampton Courts and Longleats.
The Milton Maize Maze is clearly a significant part of the summer at Rectory Farm but to think of it merely as a field of crop with puzzling pathways would be to do it a disservice and to miss the point. With a farm shop, café, the Field Of Fun (a childrens' play area consisting of mini-golf, zip wire, pedal karts, a wooden maze and more) plus tractor and trailer rides, pigs and goats, there is plenty to do on a visit of several hours.
As we conclude our discussion, I asked Marilyn to summarise what Rectory Farm offers to its visitors. With some pride she says, "Someone once told me that they knew their child had had fun that day because when they got home there was a ring of mud around the bath."
On their website, Farmer Rob sums it up: "We are very conscious that children in this day and age are unable to play in [open] space, in safe surroundings and we believe they can come here and just enjoy themselves in a lovely environment, in a safe environment, an environment that is close to our rural hearts and take home a little piece of that when they leave at night."
I brought a little piece of Rectory Farm home with me today and I would not hesitate to recommend a visit to young and old alike. These days, any attempt to stimulate and educate young people without an iPad, smart phone or Play Station is to be welcomed and applauded.
Opening times of Rectory Farm and The Milton Maize Maze can be found on their websites: