This blog takes a look at large American Motorhomes, so-called American Recreational Vehicles, or ARVs; The American Recreational Vehicle Club, and its summer rally in St Ives, Cambridgeshire.
"Old-Age Travellers. That's what we are," said Jim Bruce, sitting outside his luxury motorhome.
The smile on his face and the acknowledgement that his home-from-home was a far cry from the romance of the open road, a surfboard and a VW Split-Screen made me warm to him immediately.
We sat on deckchairs in the warm July sunshine and I felt very much at home with a man I had only just met.
The American Recreational Vehicle Club had arrived in St Ives, Cambridgeshire. Evenly spaced, the gathering of large motorhomes looked incongruous with the green rural landscape of Filberts Walk Field, London Road and beyond.
More out of place, perhaps, was the stars and stripes of the club flag fluttering gently in the westerly breeze.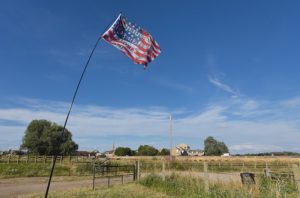 Based in the United Kingdom, the club has British members. It is the vehicles that are American.
The American Recreational Vehicle, or ARV, is a specific part of the motorhome industry. Known colloquially as 'Winnebago's', in the same sense as vacuum cleaners are called 'Hoovers', they are an increasingly popular alternative to European counterparts.
The popularity of the ARV stems from their build quality and value for money.
Built on van or coach chassis, ARV companies such as Winnebago, Thor and Forest River produce high quality motorhomes, incorporating all manner of comforts, conveniences and technologies.
Jim proudly showed me around his Thor 'Ace' 29.2 model. At a shade under 30 feet it is not the largest ARV that Jim, and partner, Anne have owned.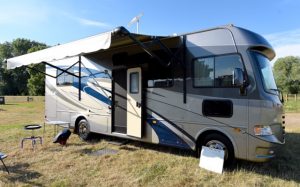 "We have owned four in 28 years," he said. "We downsized from 35 feet when we bought this one."
With a queen-sized bed at the rear, a double berth above the front seats, a convertible dinette and settee, this moderately sized vehicle will sleep eight: realistically though, it is comfortable for four and luxurious for two.
All ARVs are built for the American market and range in size from 22 feet to 45 feet. Prices go upwards of $400,000, although in the UK secondhand market two to three year old 30 –footers range from £70,000 to £120,000.
Not all models made will find their way into Great Britain however. The size of British roads leads most owners to buy ARVs up to 40 feet in length only. Jim told me that at that length it is best to stick to the main roads.
Supplies are relatively plentiful with some companies, like Signature Motorhomes, specialising in the import and sale of new and secondhand vehicles
There are, however, drawbacks to owning something not intended for these shores.
"Not all campsites will take us," Jim said. "Once you get over eight metres (26 feet) you can be too big for the pitches on some sites."
Furthermore, all ARVs are left-hand drive. The UK market is simply not large enough for the American manufacturers to produce right-hand drive models.
"After all these years, driving a left-hand drive comes naturally, and it comes into its own in Europe," said Jim. With a wry smile he adds: "Anyway, on UK roads it is Anne sitting in the suicide seat."
I could not end without asking about the engine. Powered by a Ford Triton 6.8 litre V10 delivering 362 bhp, I guessed the fuel consumption figure was not for the faint-hearted.
"Ten miles to the gallon," said Jim.
He would have noticed me wince.
"But I have had it converted to run on LPG, (Liquid Petroleum Gas) and that does make it cheaper."
We turned our attention to the activities of club. Formed over 22 years ago, it has an active membership of 120 although 1580 people are registered users of its website.
It arranges regular local rallies and produces a free monthly magazine, informing members of those rallies, covering technical issues and general advice.
The club also provides a source for the exchange of technical and useful information, and hard to find components and accessories.
Club rallies, provide an opportunity for members to meet old friends and make new ones.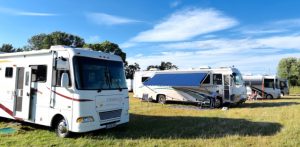 A dozen or so ARVs were anticipated at the six-day event in St Ives, taking place by kind permission of landowner, Leon Radford of Geaves Farm Hemingford Grey. Jim and Anne had travelled from their home in Camberley, Surrey, others from as far away as South Wales.
Although regular visitors to Cambridgeshire for the National Motorhome Show at the East Of England Showground each April, Jim and Anne had never visited St Ives before. They had enjoyed the market and found the town to have everything they needed.
"We will organise a club dinner before we go. Probably in the hotel at the end of the road," he said. They are due to leave on Monday.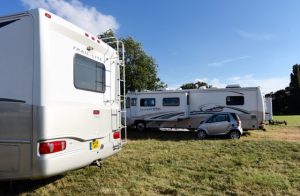 Not everyone is suited to holidays in a motorhome. Neither will everyone be a fan of the ARV, either as a potential user or as another road-users. They are big, ostentatious, and, at least so far as the petrol versions are concerned, environmentally unfriendly.
Having said that they do unite comfort, the home-from-home and luxury on the one hand with freedom, the open road and the spirit of the Split-Screen campervan on the other.
___________________________
The National Motorhome Show 2017 takes place at the East Of England Showground on 21st to 23rd April. For more, go to www.warners-shows.co.uk
The American Recreational Vehicle Club welcomes new members: www.arvclub.co.uk