"In Flanders fields the poppies blow – Between the crosses, row on row."
 Every Remembrance Sunday citizens of the United Kingdom and Commonwealth unite in wearing a poppy.  But how did this humble wild flower get from the battle-torn fields of Northern Europe to our buttonholes?
Last year, the Poppy Appeal in St Ives, Cambridgeshire raised £21,725.80p, a record for the town. For over a century the poppy has been a symbol of remembrance. This is the story of how it gets onto our lapels.
In the early morning of 2nd May 1915, near Ypres in the region of Flanders, Belgium, a German shell killed 22 year-old, Lieutenant Alexis Helmer.  Lieutenant Colonel John McCrae, his good friend, presided at the burial later that evening. He was deeply affected.
The following day, in sight of Helmer's grave and the poppies that had begun to grow in the cemetery where he lay, McCrae, wrote In Flanders Fields. It became one of the most famous poems of the Great War.
Moina Michael, an American academic, read the poem and was inspired to wear a silk poppy as an act of remembrance. She pursued an idea of selling silk poppies to raise much-needed funds to assist American veterans disabled in the conflict.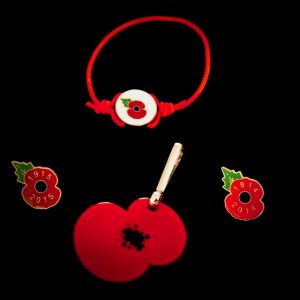 At the National American Legion Convention in September 1920 where Michael's idea of a poppy being worn on Armistice Day was adopted, a French lecturer, Anna Guerin saw the fund-raising potential for her own country and beyond. She set about turning the poppy into an international symbol of remembrance.
When, in 1921, The British Legion was established to help ex-servicemen and their families, one of its founders, former Field Marshal Douglas Haig, supported Michael and Guerin's idea of the use of remembrance poppies in fund-raising.
Consequently, the first annual Poppy Appeal took place later in 1921. Guerin imported nine million poppies from France raising £106,000 (£30 million today).
Major George Howson, founder Chairman of The Disabled Society, persuaded the British Legion to allow them to make poppies for the 1922 appeal. With just six staff, the society made them at its factory in the Old Kent Road.
The Poppy Factory became an independent company in 1925 when the British Legion and the Disabled Society merged. It moved to Richmond from where it continues to employ 60 disabled ex-servicemen and provides employment support and advice to veterans with disabilities.
The paper poppy is now manufactured at the Royal British Legion's Poppy Appeal headquarters in Aylesford, Kent.
James Cropper Paper Mill in Kendal, Cumbria, has supplied the distinctive red paper since 1978.
Dave Watson, Chief Operations Officer at James Cropper, says about 250 kilometres of paper are required to make the 40 million poppies produced annually.
"We are very proud of our long standing involvement in the production of the paper poppy, especially in 2016, as we commemorate the 100th anniversary of the Battle of the Somme.
The diverse technical chemistry we use in our paper ensures the colour does not run off in the rain or rub off onto clothing. It retains its vibrant colour and holds its shape ensuring the paper poppy is worn with confidence the world over as a symbol of respect and remembrance," he says.
The Poppy Appeal has 3500 volunteer Poppy Appeal Organisers who, together with their teams of helpers, are directly responsible for local fund-raising.
Paper poppies are sent from Aylesford to the local Poppy Appeal Organiser in good time for the start of the autumn campaign.
The acting Poppy Appeal Organiser for St Ives is Mike Robinson. He was the appeal organiser for seven years and after an 18 month break is back helping out whilst a new organiser is found.
Fund-raising for the poppy appeal is, says Mike, a 365 day a year task. But street collecting and door to door collecting is limited to just two weeks:
"This year our poppy collection period, the fortnight for which we are licensed by the local authority, runs from 29th October to 12th November, although we still get poppy donations on Remembrance Sunday."
Mike says he has 160 boxes of paper poppies that will be distributed by six volunteers to pubs, shops and businesses, as well as to street and house-to-house collectors. He says 200 people are involved in the supply of poppies in return for donations locally.
"We are always actively on the look out for new volunteers for the Royal British Legion and the Poppy Appeal. It can take no more than an hour of your time; it can take seven days of your time. There is no limit to what you can do. It's as little as you want or as much as you want, " he says.
Those who wear a Poppy pay a fitting tribute to the 178 young men of St Ives who perished in the Great War.
"If ye break faith with us who die
We shall not sleep, though poppies grow
In Flanders fields"