Richard Farrar was face down on the bottom of the swimming pool. He knew he could not move. Moments later, he was fighting for his life.
As he begins the preparations for his fiftieth birthday celebrations,  I talked with him and examined his journey from the brink of death.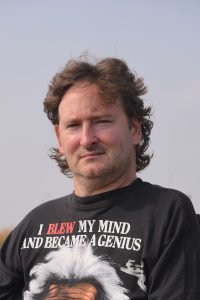 In the long hot summer of 1976 Richard Farrar learned to surf.
 "Surfing was a personal, solitary thing," he says. "I'd walk down the hill with my board to the beach if the surf was up and go in. I'd walk back up the hill, dripping wet, and straight into the shower."
Years later, and with cruel irony, a surfboard would play a pivotal role in shaping Richard's future.
 When talking of his education Richard gives a hint for the first time of how he sees himself. His self-effacing manner borders on denial at times but appears genuine.
He obtained a sponsorship to study electronic and electrical engineering at Salford University. He mentions that he achieved a first class honours degree and that he won the prize for the highest mark.
But he says: "I exceeded my wildest expectations. It just goes to show that if you set your sights you can achieve more than you think. With a bit of focus and dedication you can punch above your weight."
 After university Richard returned to his hometown of Swansea where he met and married Linda.
Leaving their families behind they moved to the Cambridgeshire village of Buckworth when Richard got a new job.
Richard's career was going well. His Ph.D was underway and new baby son, James had arrived. By the new Millennium life was good and the future looked bright.
 On 22nd July 2000 Richard and Linda went to a neighbour's party. The small swimming pool in the garden was one Richard had dived into many times.
Fatefully, he took his surfboard. He recalls seeing it floating unattended in the pool and deliberately diving deep so as not to collide with it.
"I remember diving in, but I do not remember hitting the bottom. I remember being underwater, face down holding my breath but not being able to move. I do not recall feeling pain."
Richard had suffered a life-threatening, life-changing injury. His head had struck the bottom of the pool dislocating his neck and partially severing his spinal cord. He was paralysed and needed emergency surgery at the Princess Royal Spinal Injuries Centre in Sheffield.
"I could not accept it, would not accept it. I was in denial for a long time. I could not believe that I would not kick a football around with James, play my guitar again, live a normal life."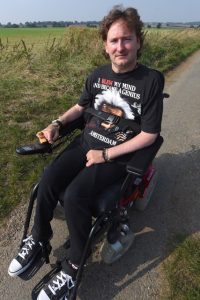 Nine months after his accident, confined to a wheelchair, and with only partial use of his right arm Richard returned home. But he felt detached; a spectator watching others' lives. His denial was as strong as ever.
The marriage broke down after a year. Linda moved to Wales, taking son, James with her. Richard sees that as significant.
"Ironically, that might have been the turning point when I started to focus on the breakdown of the marriage and less inward towards my circumstances. Perhaps that was the beginnings, slow beginnings, of my realisation."
He moved a few miles east to the village of Wistow where he shares his adapted bungalow with live-in professional carer, Sue. She has worked with him for 14 years.
 The denial that consumed this man in the dark months following his accident has receded. He appears comfortable with himself and almost dismissive of his disability.
He says: "I do not dwell on the past anymore, I'm still me, I just can't move around as much."
His progress has been slow; there was no Eureka moment. But typically, he gives Sue the credit for encouraging him to take on small but significant challenges.
The first small step came when he attended his Ph.D graduation ceremony in 2003. He was daunted but says Sue motivated him to travel and overcome his fears.
That success gave Richard the confidence to take the bigger step of a journey abroad.
He cruised to Ireland, Greenland and Iceland filled with the same trepidation but realising he could enjoy travel again.
Further trips to Norway and South Africa followed, and a cruise to see the Northern Lights is his one remaining ambition.
"I never thought I'd travel again," he says. "I'd had visions of me sitting at a computer all day and watching television and that would have been my existence. I never foresaw where I am now. The holidays were all small steps."
Richard is dependant on full-time care. He spends many hours a week lying motionless in his bed thinking and looking upward.
Yet despite his condition, he feels that life is normal.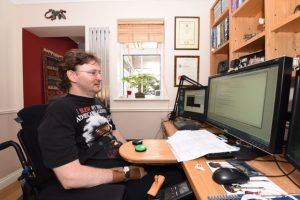 "I do not think of myself as disabled. I have never known walking around this house but I feel like I have. I don't feel disabled; I don't see myself as disabled."
 The question to be pondered is whether Richard's view of his life, his achievements and his insistence that life is normal is indeed acceptance or rather, the ultimate denial.
Perhaps the answer matters not. "This is how it is now," he says.
James is now a teenager and whilst he has no recollection of his father before his accident the bond between them is unhindered by Richard's disability.
Richard Farrar is a contented man, doing his best, getting by and seeing himself as an unremarkable lead character in what others see as a remarkable story.
"If I ever wrote an autobiography I would call it 'Staring At Ceilings'," he says. "I have seen a few of those in my time."