Ever wondered what it would be like to give up a 'proper job' and life in the UK, to fulfill a dream of living and working in paradise? I went to meet Claire Shields to find out.
 Sunsail is one of the world's biggest yacht charter and sailing holiday companies. Claire Shields is manager at their Ionian base on the Greek island of Lefkas.
 "Gosh, is it that time already?" says Claire from behind her desk in the open-plan office.
She suggests we talk outside, where at least we will benefit from the breeze. It was mid-day and hot.
In her corporate white polo-shirt, blue shorts and flip-flops, and with an obvious tan, she is the epitome of success in the marine industry: smart, business-like, customer- focused and completely at home at the water's edge.
Claire's first career was in banking. But she gave that up and came out to Greece in 2000.
"This was very different. I'd sailed all my life and I wanted to see whether I liked teaching. So I came out for six months," she says.
She did the same the following year and in those first two seasons taught sailing at Sunsail's Beach Club at Vounaki on Greece's Ionian coast.
Claire was a good teacher and decided to make a career in sailing. She obtained her Yachtmaster, the RYA's top qualification, in 2001, leading to her securing a position as a flotilla skipper.
"I did this for about six years. Because I had worked before, and I was a bit older, I thought I really like this and in those kind of positions it's not a job you do for the financial reward."
Claire decided to make Greece her home.
"I loved it," she says. "So, I thought, I live in paradise, I get to do something I love everyday, and I get to teach
other people how much I love it, and they then go from there."
She has lived here for 14 years.
During her time at Vounaki, Claire taught hundreds of customers to sail.
"I still have clients who I taught to sail in 2004 and every year they just come back and do different things."
Claire talks eloquently and confidently. And whilst ultimately a sailor, her business skills are apparent. By 2012, she had been appointed base manager at Vounaki.
That appointment brought responsibility for the management of all base staff, a fleet of over 100 charter yachts and the success of thousands of sailing holidays.
Perhaps her biggest challenge came at the end of 2014 when Sunsail re-located its operation in Vounaki to the marina at Lefkas.
"I had allotted myself about six weeks to move," she says. "At the time we had a hundred and thirty yachts. At the end of that year when we opened here, we also opened up in Corfu. So twenty-odd went up to Corfu. We sold a few and I've now got 90 here."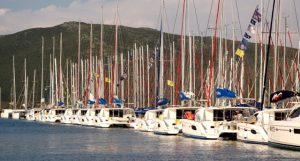 The Sunsail team set about moving their fleet across the Ionian.
Claire says: "I said to the guys, 'It's only an hour and a half across and we'll just pick you up, drive you back and you can have a weekend off if we can do three a day (each) without doing anything silly and unsafe.' Ten days later everything was here. That was a bit faster than I anticipated."
With the fleet in Lefkas and the 2015 season upon them there was still lots to do.
"It was such a blank canvas. This office did not exist. They built it for us but we could not move in until the May. They gave us empty buildings with massive ceilings. We were thinking – great space, what do we do with it?
So we dismantled parts of the old Vounaki and brought them with us. One of the guys that worked for me at the time was a professional welder and we just put it all back together."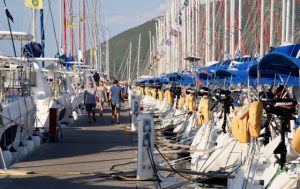 Two seasons on, Claire has settled well in her new home.
"Lefkas is geared up for the Greek tourist. It is not geared up for anyone else. So it is a really, really nice place to come.
And to live here – it has a very village-like feel; like where we used to be, but there is more opportunity to do other things; to be active if you want to be, or not as the case may be. For the boats and the clients it is fabulous," she says.
Claire finds Greece relaxed and friendly.
"I have always felt safe in Greece," she adds. "The locals are very respectful. They are friendly. They are trustworthy. The culture here is like it was in the UK 40 or 50 years ago."
Claire Shields lives in a place she loves helping others do what she loves. She gave up a career in banking to live the dream on the Ionian Sea.
It is easy to see why.