This week I focus on Jones Boatyard, St Ives and look at how their plans to expand the marina are progressing.
Those walking in the meadows around St Ives Lock or driving on St Ives by-pass these last two weeks may have noticed a new arrival. A large orange excavator working on the far bank of the river Great Ouse.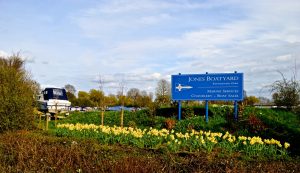 That's because Jones Boatyard, the owners of The Boathaven marina, have taken a step closer to completing a ten-year project.
Contractors have opened up  a 15 metre section of riverbank to create a new marina basin.
Ben Jones, director at Jones Boatyard, welcomed the progress and is optimistic that the 160m x 115m extension will be operational for the 2017 boating season.
From the marina Mr. Jones said: "We will open the new part of the marine to the public as well as to customers. There will be a café and riverside walks and secure moorings for boats. We plan to create 70 new berths."
Extraction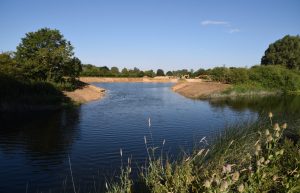 Mick George Ltd has been extracting gravel from the site over the last two years under a lease. The land is owned by Jones Boatyard. Mick George will carry out excavation and landscaping work to create the boatyard's fourth mooring basin.  The  aggregate specialists will then hand the site back to them.
The Jones family established the marina in St Ives in 1953. It is believed to be the oldest inland marina in the UK. Ben Jones said that his grandparents opened up a third mooring basin in the nineteen-eighties at the time when the St Ives bypass was built.
"They originally began at Huntingdon in 1946," said Mr. Jones, who together with brother Sam, is the third generation of the family to be involved in the marina business.
Floating Pontoons
Jones Boatyard sits just upstream of St Ives lock. Boats will access the new basin from further down the river. The design team overcame technical challenges caused by the river level being lower on the downstream side of the lock.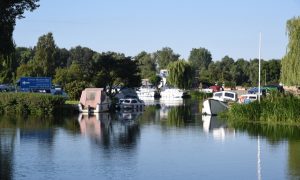 Mr. Jones said: "The river level downstream of the lock is 2.8m lower than upstream but it does rise in floods. Our new berths will be on floating pontoons secured to large piles like those on the coast. As the ground is higher than flood level the new marina basin will be accessible all year round."
The 104-berth marina has been full for nearly 20 years, often with new customers having to wait to get a berth.
The new extension will bring further custom to the boatyard and to St Ives. It will help Jones Boatyard maintain its position as a premier marina for customers and public alike to enjoy.