A new restaurant has opened in St Ives. I went along to Zzohanna to find out what this Indian has to offer.
What is the blandest thing on the menu? Scam Pie , is it? And that's totally tasteless, yeh?"
The BBC's Goodness Gracious Me sketch "Friday night, a Berni Inn in downtown Bombay…… after the pubs have shut," sounds a little dated now.
"How come every Friday night we end up in the Berni Inn?" asks one drunken diner in strong Mumbai tones.
" 'Cause that's what you do, i'n it? You go out, you get tanked up and you go for an English."
Fifteen years on, the parody might be lost on the new generation of Indian Restaurant-goers. And that is a good thing. No longer is 'the Indian' a place to go at the end of a heavy night out. It is the night out, and it is better for it.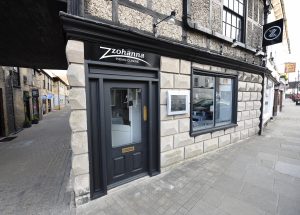 Zzohanna, St Ives' new Indian restaurant opened its door on 31st March. Ideally located in Bridge Street (although confusingly the postal address is 8 Manor Mews), it has views of the river and historic quay.
The décor of neutral and grey tones is complemented by simple white tableware. There is no red-flock, no gold, no background sitar. With just 36 covers Zzohanna has an uncluttered air. It strikes a balance between lively and intimate that will have universal appeal.
The restaurant's owner, Johanna Matheron, has worked in Indian cuisine for the last 7 years and is a familiar face in the town.
She aims to bring good service and a personal touch to her new venture: "By personal touch, I mean that for those who we know, we are able to blend spices to make the dish to a strength that we know they like."
She says: "Diners are always welcome to tell us how spicey they like their food to be."
The starter menu mixes the wellknown with the intriquing; 'Mongolian puri' (tiger prawns) and 'Shimla mirch' (Bell pepper filled with feta cheese) sounded especially inviting.
My Chicken kofta kebab starter arrived warm, well-presented and without delay. It was rather mild and the richer flavour of the sheek kebab would have suited me better.
An extensive main course menu has all the traditional favourites; Kormas, Passandas and Massalas at the mild end through to Vindaloo, and even a Phal, for those wanting something more firey.
Traditional main dishes range from £6.95 for the vegetable option through to £10.95 for King Prawn with the popular chicken variation being £7.25. A comprehensive selection of rices, breads and vegetarian sides range from £1.45 to £3.95.
One page of the menu is devoted to 'Zzohanna's Specials', nine dishes selected by chef Tequil Zzoha. Prices are £9.95 to £11.95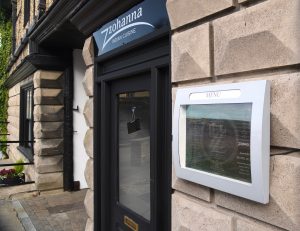 Lababdar chicken, Kashmire ka khusbu and Kori gassi are not mainstream Indian cuisine. The desire to 'try something different' when facing unknown choices is hard to resist.
My Lababdar chicken was a rich creamy dish, bright with fresh tomatoes, pleasantly flavoured with aromatic spices and warming on the lips. The portion was a good size and presented both hot and on time.
The Kori gassi, again a creamy dish, was rather mild and sweet in contrast and would fit well into the category of 'beginner' dish with passanda and tikka massala.
It is easy at Zzohanna to succumb to the tendency to over indulge. We gave side orders, naan breads and desserts a miss, but felt appropriately comfortable after two well-proportioned courses.
Jo and her team of waiters delivered efficient friendly service unobtrusively. I would have preferred to have my starter brought to the table when we had finished the poppadoms, rather than to be told that it was ready whilst we were still eating them, but perhaps that is just a personal preference.
Our total bill, excluding gratuity, was £55 for two. It would have been cheaper had we not had 'specials', and would have been more had we ordered desserts. It is not cheap food, but is positioned within the range of prices of similar restaurants in town.
Zzohanna is open 7 days a week; 5.30pm to 10.30pm Sunday to Thursday, and 5.30pm to 11.00pm Friday and Saturday. It is also open lunchtimes from Saturday to Thursday between midday and 2.00pm. A take-away menu is also avaiable.
By 8pm on Tuesday evening (not renowned to be a busy night in town), Zohanna was almost full. Inevitable Jo's good local reputation will entice customers to this new restaurant.
With its picturesque location close to the river, wide menu, intimate feel and personal touch, Zzohanna will fit well into the evening economy, giving diners in this increasingly popular market town even more choice.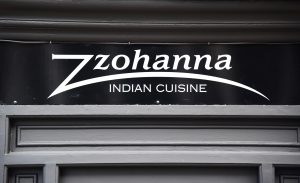 Zzohanna Indian Cuisine  Tel: 01480 465888       Follow Zohanna on Facebook